Draw Cartoons 2
0.20.15
Cartoon App – Draw and Animate Cartoons
Do you like watching cartoons? Want to draw and animate cartoons of your own? This cartoon app can help you do just that. Draw Cartoons 2 is a nice app that lets you use your imagination to draw cartoon characters and create animations to bring those characters to life. It offers you character models and building elements that you can use for creating your own character models. You can animate the models you create by using the joints marked on them. New joints can also be created on the existing models. Once you have made various animations, you can string them together to create a cartoon. You can watch your cartoon character come to life by playing the finished video.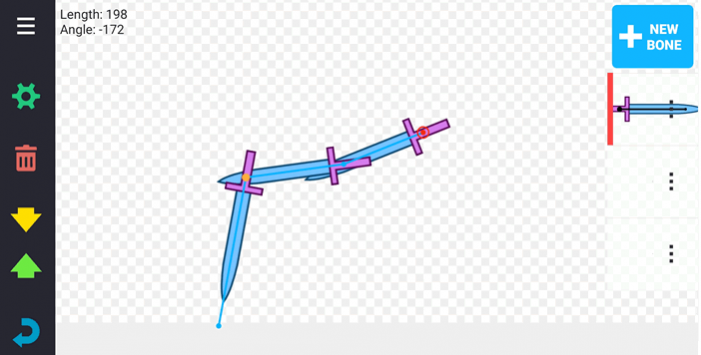 Draw Cartoons 2 has a user-friendly interface. You won't have any issues using this cartoon app. Moreover, its intuitive design and layout makes it easy for anyone to find the features they are looking for. You will find the menus for inserting new character models and building elements on the left-hand side of the screen. Just pick the model or the element you want to use and it will appear on the screen in the center. You can then animate the character by moving the various joints displayed on it. Each movement you make can be stored in a layer. You will see the layers lining up on the right-hand side of the screen. This app lets you edit the layers after you have completed your animation, so you can make changes if you want.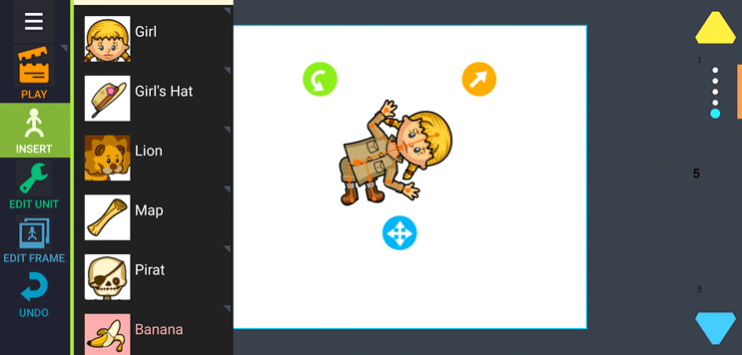 You get the chance to create new character models using the building elements provided to you in this cartoon app. There is a huge library of these elements available and you can pick any of them for your character model. You can make as many changes as you want to the character model and also add new joints to it. Once the character model is ready, you can save it and add it to the library. You can use your own character models in the same way as the stock character models. Just tap them to make them appear on the center of the screen and then begin animating it. You can animate two different character models side-by-side as well.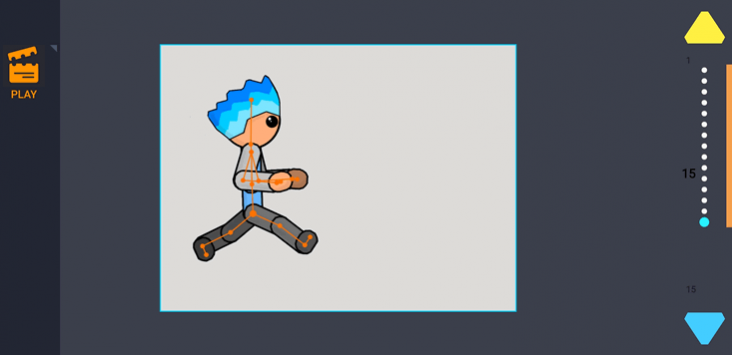 Draw Cartoons 2 enables you to express your imagination in the form of art. You can animate the character models in any way you choose. Once you are satisfied with all the layers of animation, you can run them as one to create a cartoon. Just click the 'Play' button located at the left-hand side of the screen and the video will begin playing immediately. This cartoon app also lets you add audio to your cartoons too. You can do that either using the voice recorder feature of your phone or your music library. With the voice recorder, you can add your own voice to the cartoon. If you wish to share the cartoon with others, you can do so by exporting the video and then sharing it with anyone you want.
Features:
User-friendly interface
Intuitive design and layout
Lots of character models on offer
Edit character model to create your own
Huge library of building elements to choose from
Fuse the different elements to create new models
Add joints to existing models and elements
Animate the character using their joints
Create cartoons by stringing together multiple animations
Add audio to your cartoons via voice recorder or music
Preview the cartoons before saving them
Option available to edit the frames
Export the video to share with others
Conclusion:
Draw Cartoons 2 is an app for people who love drawing cartoons and creating animations. It allows you to come up with unique cartoon characters of your own and lets you animate them as you see fit. You will enjoy the freedom of expression you will get in this cartoon app.
RELATED PROGRAMS
Our Recommendations
---
---
---
---